The new UBC Aquatic Centre features a 3 screen video wall in its main lobby.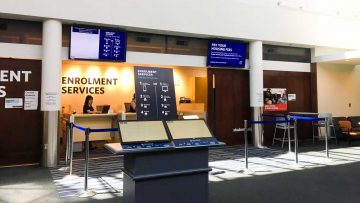 Recently, Enrollment Services adopted a new system to organize queues to manage wait times.
We wanted to see if we can leverage the enterprise infrastructure that exists to enhance the experience of Alumni Weekend 2012 participants.
We recently completed an installation at the School of Population and Public Health. Here are some words from staff members from the school on their experience so far:
Check out this installation in the *NEW* Centre for Student Involvement in Brock Hall.